I've just put my hands on a sweet lioness: here's my 1994 Peugeot 205 GTI 1.9L!
There is no need to introduce the cult french hot hatch from the 80s.
If you really need a refresh, check: http://www.autocar.co.uk/car-news/motoring/history-peugeot-205-gti-picture-special .
These cars are becoming a very demanded collectible item and good maintained stock 205 can easily cost more than 10000 euros.
So I got this car from an old weird lady who was the second owner after another girl.
The car is from 1994, it has 127700km on the clock and it is green Meierling (paint code MOSB).
This is a catalytic swiss model (122ch) with no plastic bit ("râpe" in french) between the rear lights (see the top pic).
It has also the panoramic roof and came with three different sets of alloys (stock, Peugeot optional honeycomb and ugly tuning).
The exterior has some small dents and scratches here and there but honestly it is alright.
The interior is also not bad (nothing apparently broken or missing). Only the seats covers are wrecked.
Foam on the front seats is surprisingly in perfect condition tho (they're known to go…).
Ok, the car was cheap but it was not going up the rpm and the muffler was totally cooked… means I could't try the car before buying it.

Fortunately the spark plugs replacement resolved the rpm issue.
The original plugs were pretty much looking like popcorn.

The muffler was replaced with this stainless InoxCar model: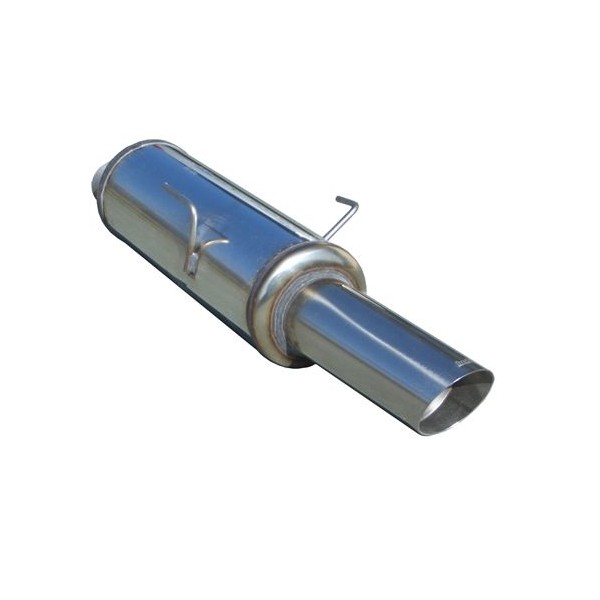 The car has been quickly serviced (oil, oil filter, coolant, air filter, fuel filter).
And the big part was replacing the timing belt with its tensioner pulley and the waterpump.
At the same time the thermostat has been replaced and so has the crankshaft seal.
While driving there was also a tak-tak-tak coming from around the speedo, so I've replaced the speedo cable.